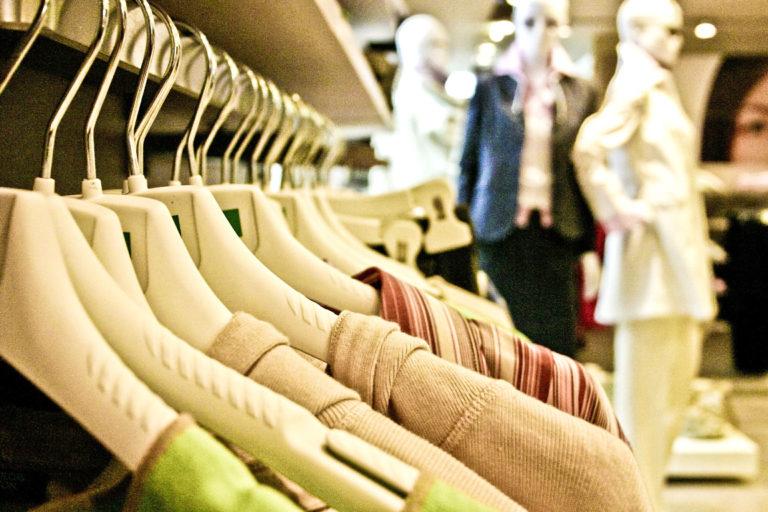 Shopping in Karlstad
Für diejenigen, die es lieben, auch im Urlaub einen Shopping Nachmittag zu genießen, gibt viele schöne Geschäfte im Zentrum von Karlstad. Direkt neben dem Campingplatz befindet sich zusätzlich das Bergvik Einkaufszentrum, mit über 100 Geschäften. Hier können Sie nach Herzenslust shoppen. Achtung: Nehmen Sie Ihre Dachbox mit, damit alles hineinpasst.
Website: Visit Karlstad
---
Klässbols Linneväveri
Do you recognize the name Klässbols Linneväveri? It may well be that you heard them mentioned in connection with the Nobel banquet where they supply tablecloths and napkins every year since 1991. Linen production at Klässbols Linneväveri is located in Klässbol outside Arvika, which is approximately an hour's drive from the campsite at Skutberget. At Klässbol you will find a shop where you can buy beautiful textiles for your home as well as Café Kaffekvarnen, which is open during the summer. In the area you can also make candy with Klässbols confectionery.
Part of Swedish history
Klässbols Linneväveri is also Royal Swedish suppliers since the 1970s and supplies the Swedish Court with exclusive table linen in the form of hand-woven tablecloths, The Royal Cloth, curtains and much more. Klässbol are known to reuse traditional beautiful patterns to create new modern textiles. An excursion to this place is a memory of life and is available regardless of season.
Website: Klässbols Linneväveri
---

Boot-Bus
Der Boot-Bus fährt bis zum 31. August mit einer großen Auswahl an Routen.
Website: Båtbussar
---
Alte Kraftwerk in Deje
Heute rühmt sich alte das Kraftwerk mit einer einzigartigen Kunstgalerie, Musik, Bio-Café und Mittagessen. Es stellt vielfältige Kunst der vielen verschiedenen Künstlern in dre wechselnden Kunstgalerie während der gesamten Saison aus. Es gibt auch einen kleinen Shop mit handwerklich gut zubereiteten Lebensmittel und Kunsthandwerk. Die Räume mit ihren 11 Meter hohen Decken bieten eine atemberaubende Atmosphäre, die Ihnen bestimmt in guter Erinnerung bleiben wird!
Website: Gamla Kraftstationen
---
Selma Lagerlöfs Mårbacka
The author Selma Lagerlöf was born at Mårbacka in Östra Ämtervik 1858 just south of Sunne in the heart of Värmland and is a perfect day trip from the campsite. During the year, various events will be held at Mårbacka, including Christmas at Mårbacka, Mårbackas Afternoon Tea, Ghosts walks, Selma's birthday will be celebrated and various exhibitions on the estate.
As young, Selma decided to become a writer and perhaps best known for her debut novel, Gösta Berling's story, Nils Holgersson's wonderful journey through Sweden. As the first woman, she received the Nobel Prize Literature in 1909. She was also the first woman to be elected to the Swedish Academy in 1914.
Mårbacka is located approximately 60 km from Karlstad.
Website: Mårbacka
---
Alsters Herrgård
Alsters herrgård is a traditional Swedish 18th century manor house, situated in beautiful natural surroundings, overlooking Lake Vänern. In 1860, the great Swedish poet Gustaf Fröding was born here.
Alsters herrgård consists of several buildings and a manor park. It is closely connected to walking trails, a beach and an observation tower for bird-watching. There is a café that serves lunches and homemade breads and pastries, in addition to a number of other businesses such an art gallery, a gift shop and Slöjdens hus, which houses a craft shop as well as craft exhibitions. In December there is a christmas fair with food, market and small shops.
Website: Alsters Herrgård
---
Sliperiet i Borgvik
Sliperiet in Borgvik is an art gallery in Värmland and is a very popular destination during the summer. There is a modern art gallery and Sliperiet Gastronomi (Gastronomy) restaurant in the old buildings dating back to 1903. Since 2010, exhibitions of well-known artists, both Swedish and international names, have been displayed between May and September in Sliperiet. In Borgvik and around Sliperiet you can also take walks in the beautiful forest, visit antique shops and visit the guest harbor.
Sliperiets owner is no less than Oscar Magnusson, son of Sven-Erik Magnusson in Sven-Ingvars, where Oscar has also been a member since 2006.
Website: Sliperiet Borgvik